Flow Outdoor Paddle
Recreational, Polypropylene and glass fibers, Outdoor/indoor
Item no. T1285G
---
STIGA – Since 1944, STIGA has been the innovative table tennis brand. Developing industry leading technologies for its table tennis equipment, STIGA combines superior craftsmanship with exceptional performance in every product. The highest quality equipment for all, from amateur to pro. That's the STIGA heritage.
BUILT FOR INDOOR/OUTDOOR – Weatherproof and shock-resistant racket made from the toughest materials and designed for high use table tennis locales like camps, offices, and schools.
DURABLE MATERIALS – With a handle made of thermoplastic elastomers and a blade made of polypropylene and glass fibers, this table tennis racket is wildly durable.
BLADE HARDNESS – The hardness of the blade offers superior control for an indoor/outdoor racket.
PERFORMANCE RATINGS – Speed: 45, Spin: 45, Control: 90
---
The STIGA Flow is a versatile ping pong paddle designed for indoor/outdoor play. Weatherproof and shock-resistant, the Flow is made from the toughest materials and designed for high use table tennis locales like camps, offices, and schools. With a handle made of thermoplastic elastomers and a blade made of polypropylene and glass fibers, the Flow will stand up to the toughest recreational play. The Flow's blade hardness offers superior control for an indoor/outdoor racket and is the ideal companion for STIGA outdoor tables. Performance ratings of Speed: 45, Spin: 45, and Control: 90.
Blade

Polypropylene and glass fiber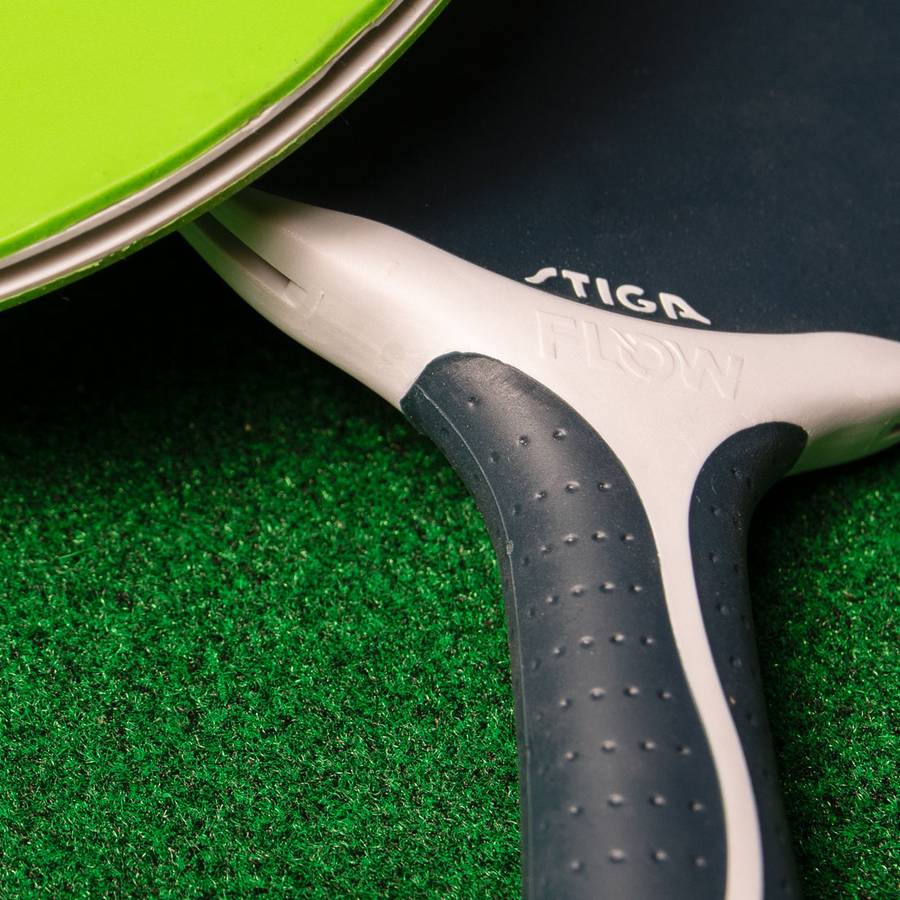 BUILT FOR THE GREAT OUTDOORS
Designed with the toughest conditions in mind, this racket combines weatherproofing and shock resistance with a thermoplastic handle to take on any challenge. Feel confident to combine this with your STIGA outdoor table for unmatched playability.
PADDLE PERFORMANCE

SPEED

SPIN

CONTROL