XTR
Outdoor, all weather table with 10-minute QuickPlay assembly
Item no. T8575W
---
PERFECT ADDITION TO ANY OUTDOOR PATIO SET - Durable outdoor table tennis table perfect for the patio or garage
BUILT TO LAST - Specifically designed and manufactured to withstand the elements
ALL-WEATHER PERFORMANCE - Aluminum composite top offers great playability with all-weather performance
QUICKPLAY DESIGN - 10-minute QuickPlay design comes 95% preassembled out of the box for quick and easy setup
SIMPLE STORAGE - Effortlessly folds into an ultra-compact storage position in seconds with self-opening legs
---
Ships LTL - Additional Delivery Time Needed
Skip the stress of rearranging furniture to fit a ping pong table inside your home and enjoy table tennis outdoors. The STIGA XTR Outdoor table is designed and manufactured with durable, all-weather materials such as aluminum, exterior grade powder coating, and galvanized steel for a table that is waterproof, and resistant to rust and sun damage, making it perfect for year-round outdoor storage in any climate. This table comes 95% preassembled with only one simple step to complete so you can begin playing in less than 10 minutes. The 6mm aluminum/composite top is supported by a stout 1.5" tubular steel apron to deliver lively and even bounce across the entire surface and resists warping under any condition. The table includes a 72" exterior grade net and post set with string tension adjustment for excellent playability. Below the table, sturdy 1.25" welded steel legs include a self-opening feature, so they automatically deploy when opening or folding the table halves for added convenience and safety. The legs also include adjustable height leg levelers to ensure your table has a solid, level playing surface on any terrain. For added flexibility and mobility, the table features 3" ball-bearing wheels that smoothly roll and lock into place for safety. This table includes playback mode for individual practice and each table half can be separated and used as a free-standing multi-purpose table for dining, playing cards, and more. After playing, conveniently fold each table half into the upright position, lock into place with the red safety latch, and roll to the desired location for convenient storage. The separate table halves of the XTR nest together for an ultra-compact folded profile so it can fit into any space.
Conquer the elements
The STIGA XTR withstands the elements while providing top-notch playability. Featuring a weather resistant, aluminum composite top, you can rest assured your XTR will stand the test of time. A perfect addition to any patio, deck, garage; you name it.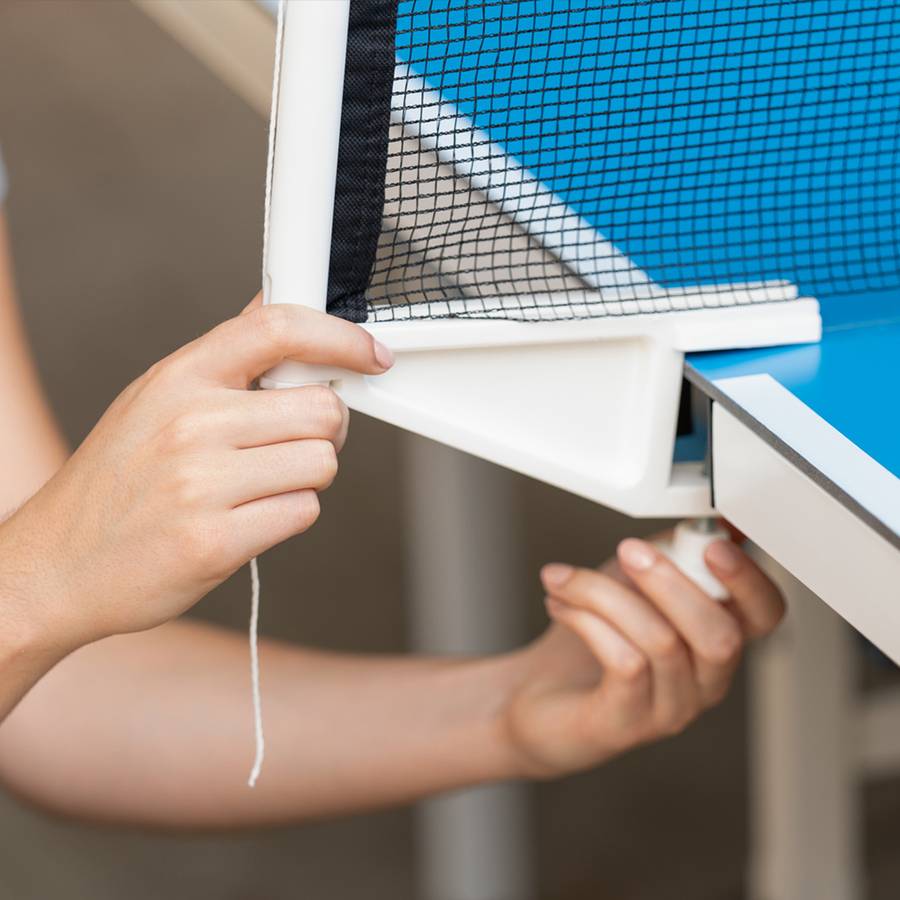 72" Exterior Grade Net
Featuring a 72" exterior grade net and post set, complete with tension adjust for specific play styles.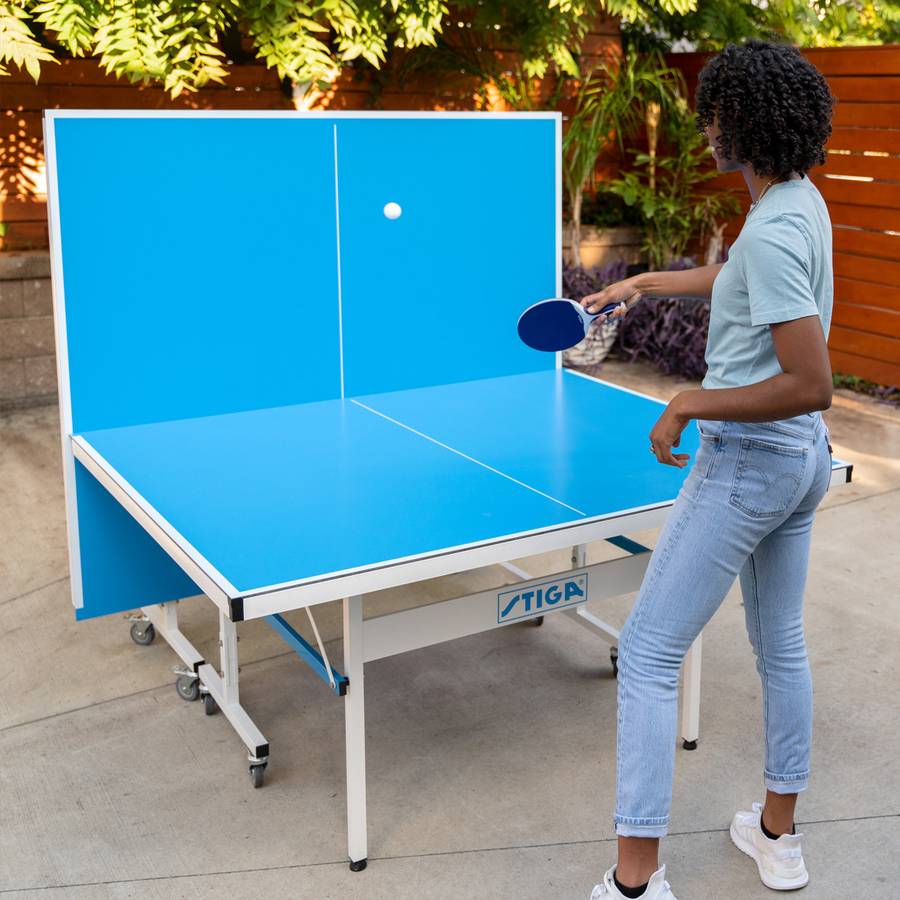 Ultimate Playback Mode
Elevate and hone your skills with playback mode, no partner needed.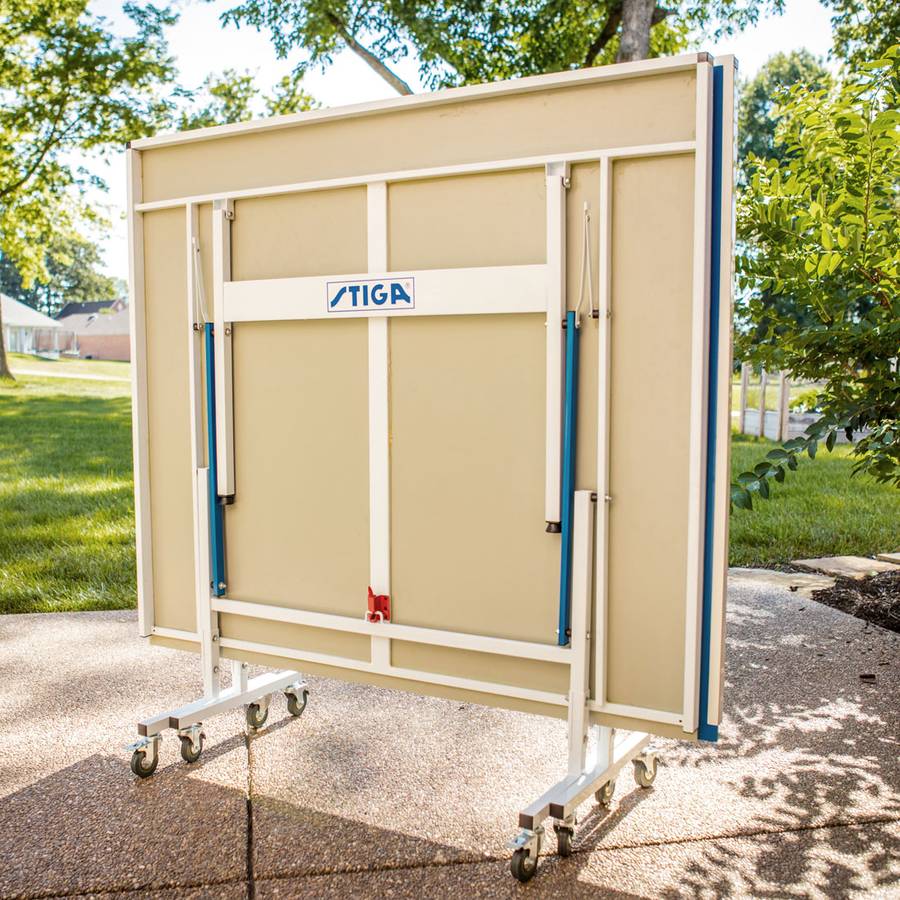 Convenient Storage
Simply, fold each table half into an upright position as they lock into place with the red safety latch. Next, effortlessly roll for convenient storage.