Carbon+ Bundle
Performance, 7-ply extra light blade, bundled set
Item no. T1076
---
STIGA – Since 1944, STIGA has been the innovative table tennis brand. Developing industry leading technologies for its table tennis equipment, STIGA combines superior craftsmanship with exceptional performance in every product. The highest quality equipment for all, from amateur to pro. That's the STIGA heritage.
ULTIMATE PACKAGE - This set includes a Carbon+ racket, neoprene racket cover, STIGA player wristband, and two 3-star tournament balls.
BUILT FOR COMPETITION – STIGA's ACS Technology forms stronger and tighter bonds in the ITTF approved smooth inverted S5 rubber for high speed and spin with maximum elasticity and outstanding control—the perfect racket for tournament play.
SUPERIOR TECHNOLOGY – This racket unites STIGA's Crystal and WRB Technologies for a hardened, light blade with faster returns, more power, and extra sensitivity of touch.
PRECISION BLADE – The 7-ply blade boasts 5 layers of light-weight balsa wood and 2 layers of high-performance, integrated carbon fiber that combine with a 2mm sponge for a larger sweet spot and cleaner hits. PERFORMANCE RATINGS – Speed: 98, Spin: 94, Control: 75
---
The Carbon+ Professional Bundle includes one professional level Carbon+ ping pong paddle with one neoprene paddle cover, a STIGA player wristband, and two 3-star tournament ping pong balls. STIGA's ACS Technology forms stronger and tighter bonds in the ITTF approved smooth inverted S5 rubber for high speed and killer spin with maximum elasticity and outstanding control—the perfect racket for tournament play. This racket unites STIGA's Crystal and WRB Technologies for a hardened, light blade with faster returns, more power, and extra sensitivity of touch all designed to help you dominate your opponent. The 7-ply blade boasts 5 layers of light-weight balsa wood and 2 layers of high-performance, integrated carbon fiber that combine with a 2mm sponge for a larger sweet spot and cleaner hits. The Carbon+ racket is a perfect blend of cutting-edge technologies and advanced materials allowing you to experience the extreme power and spin found in rackets used by STIGA's top players around the world. PERFORMANCE RATINGS – Speed: 98, Spin: 94, Control: 75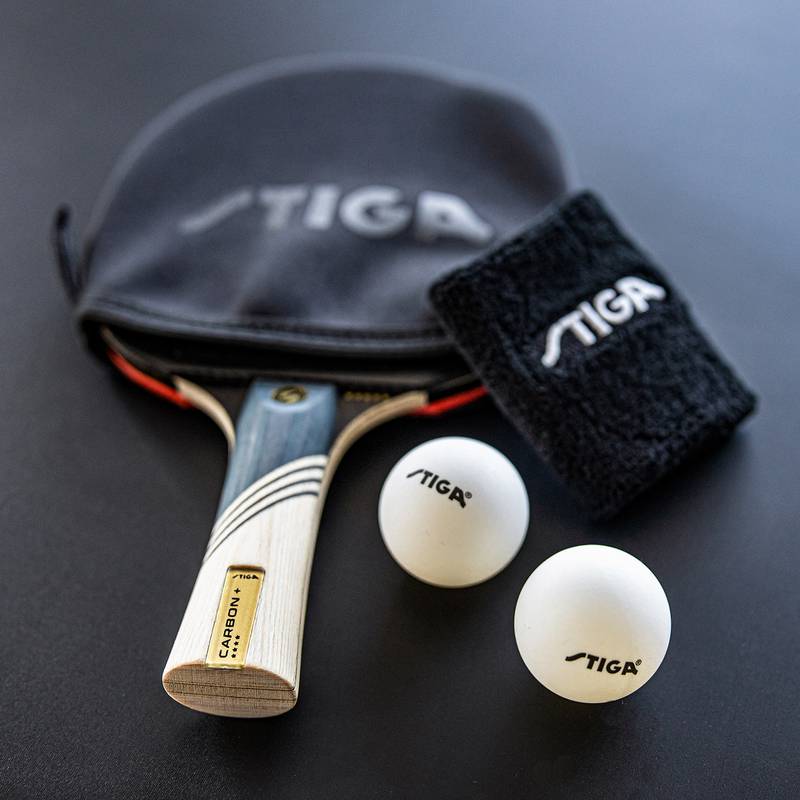 CARBON
Two layers of high-performance carbon are integrated into the blade improving rigidity and response, which results in increased speed and power.
WRB
Weight Balance - Rate of Recovery - Ball Sensitivity -- The WRB System lightens the blade for faster returns, more power, and extra sensitivity of touch. ACS
Numerous microscopic air capsules in an ultralight rubber allows high speed to be combined with maximum elasticity and outstanding control.
Crystal Technology
Crystal Technology is STIGA's unique process that hardens the surface of the blade to increase speed. ULTRA-LIGHT BALSA
The blade is made from ultra-light weight balsa wood to reduce weight and increase speed. ITTF APPROVED S5 RUBBER
The STIGA Carbon+ meets quality and performance requirements of the International Table Tennis Federation and is approved for tournament play
RACKET PERFORMANCE
SPEED

SPIN

CONTROL